So it seems quite a lot has happened since my post last week where life was nothing but sweet peach ready to be devoured.
This week, all hell broke loose INSIDE OF ME.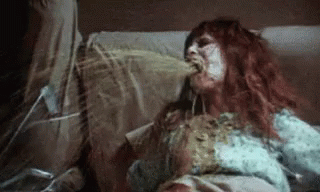 If you're a regz reader you will no doubt be totally familiar with my 'Acid Re-flux' woes.
Having never experienced re-flux prior to my surgery I took it as gospel when the DR diagnosed me that it was pretty common to feel like the pits of hell were imploding within my body.
Why would I question that intense body cramps, spewing up blood and generally clinging on to dear life wasn't just totally common when several DR's and dietitians have told me it's part of the process.
I'd cut out the caffeine and the bread and most gluten. I'd made it my routine to walk off all foods consumed each time I put one bite in my mouth box. I'd followed all the rules.
Why the fuck is this still an issue?
Monday last week agony struck. Luckily for me I have really fuckin understanding bosses who've let me work from home to allow me to sit in a hot bath whilst I work or pace the living room to try and ease the cramps.
By Wednesday shit had gone turbo. After hours of cramps, tears, sick and more blood my DR sent me straight to A&E where I was admitted pretty much on arrival.
My first night in hospital I was woken at approximately 3am by the feeling of something very hard and cold sneaking into my ear.
I opened my eyes confused. A man stood hovering over me with 2 swabs in 1 hand and a thermometer in the other. He took my temperature clumsily and opened his first swab.
I asked several times what this was for and was met with a very muffled response before I felt my corneas burning from my skull with the brightest flash light beaming directly into my face.
I prepared myself for death. The grim reaper had come to collect me.
I heard the muffled voice again.. 'swab nose, swab groin.. do it now'.
First off, this Grim Reaper is a bit pushy and secondly his annunciation is really getting on my tits.
I sat up in bed.
'What's happening here man?'
The light above my bed came on.
The night nurse guy waved the swabs in my face and turned around with his back to me.
'SWAB GROIN'
I swabbed. He turned around. I see the second swab aiming for my face. The swabbed hit my nose. He shouted 'NOSE RING' I flinched. He kept repeating swab.
I'm so fuckin confused. He turned his back to me again. I was asking questions but he just ignored me repeatedly. He turns back to me. The torch is back in my face.
OMG HE'S DEAF.
He's lip reading me in the pitch black.
He runs away never to be seen again with groin swabs.
2 days of nil by mouth and 2 days of clear liquids (water) several blood tests, several piss tests, 1 endoscopy, 1 abdomen X-Ray and 1 ultrasound I was finally diagnosed with Gall Stones and also an acute obstruction in my sleeved stomach.
YAS.
Like, legit I mean it when I say YAS. Some people panic, worry when they receive news something is wrong and another operation, potential two operations are on the cards but I'm fuckin elated man.
THIS MEANS I CAN BE CURED
What was the alternative, burry my head in the 'acid re-flux' sand fo'lyf and carry on les miserables in pure agony every other day. Naaaaaah mate, Allow that.
Once again the NHS have been good to me. Yes, it's a slow process but see how fuckin fast you work with one set of hands and 18 patients on your ward. What do you want, a fuckin Octopus?
There was one, okay two slight mishaps where the surgeon got me confused with Lisa in the bed next door and tried to wheel me off to have my gallbladder removed. In hind sight, I wish he did now. Could have saved me 4-6 weeks waiting for my operation.
The other incident was pretty traumatic. A nurse came to my cubicle, drew the curtains and sat me down for a serious conversation.
'So, Miss O'Hara. When were you first diagnosed with Diabetes?'
'I HAVE DIABETES?'
Nurse, looks through her notes confused
'Oh Sorry Miss O'Hara, have you got diabetes?'
'You've taken nearly all the blood in my body over the last few days, you tell me'
'No you're fine Miss O'Hara, good bye'
Surrreeeeee that made me feel so great, especially when a second nurse came and asked for my insulin instructions later in the day. I was getting paranoid man. Do I have diabetes?
Surly after losing nearly 8 stone that should be the least of my issues at this point.
Turns out I 100% do NOT have diabetes.
My life now is heading back to basics. Back to soft foods, soups, baby food and as little fat as possible.
The aim is to keep the pain to a minimum as much as humanly possible until surgery and life can then resume back to normal.
If that means sloppy shit for another 6 weeks then so be it.
I WILL NOT BE DEFEATED BY A FUCKIN STONE.
Easier said than done? Watch this space.